Do you qualify for
Fully Funded


First Time Central Heating (FTCH)?
This applies to Owners, Landlords, Tenants or Social Housing Occupants
If your home does not already have a gas central heating system and you find that you are spending a huge amount of money heating your property, then we can help.
If your home is heated either with Electric room / Storage heaters, Warm air system, Gas room heaters – or you have no heating system at all, you can obtain funding towards something called First Time Central Heating (FTCH). There are other older heating systems that qualify too. Please see below for the full list.
We will install a new Gas Combi Boiler with radiators in different rooms of the property.
In order to qualify, your property must not have had Gas Central Heating or any radiators in the past and your existing heating system must be either old and inefficient or broken.
FTCH Benefits
Increase the value of your property by an estimated £10,000 – £15,000
Fully guaranteed and warranted installs
Gas Safe Registered Installation Operatives
Reduced heating costs and increased comfort
Industry-recognised and award-winning appliances
Full installation and commissioning of the new system
Non-repayable grants available towards the cost of the installation
Upgrade the heating in your home in 3 simple steps
Submit Your Information
Submit your information through our website and one of our representatives will aim to contact you within 24 hours.
Site Survey Undertaken
Our Domestic Energy Assessor will arrange to call out and carry out a free site survey and inspection of your existing heating system and to identify your requirements for your new central heating system.
Boiler and Efficiency measures installed
Our Engineers install your Efficiency measures and your new Boiler in as little as three days.
If you currently have any one of the following heating your property, you will qualify for a new 'A' rated Gas Boiler install:
Gas room heaters
Electric room heaters, including direct acting room heaters, fan heaters
Inefficient electric storage heaters (SAP rating of 0.2 or less)
Gas fire with back boiler with one or no heat emitter
Agas with one or no heat emitter
Warm air system
Solid fossil fuel fire with back boiler
Direct electric underfloor or ceiling heating (not connected to an electric boiler)
Bottled LPG room heating
Solid fossil fuel room heaters
Wood / biomass room heating
Oil room heater
No heating at all
What do you get as part of the install?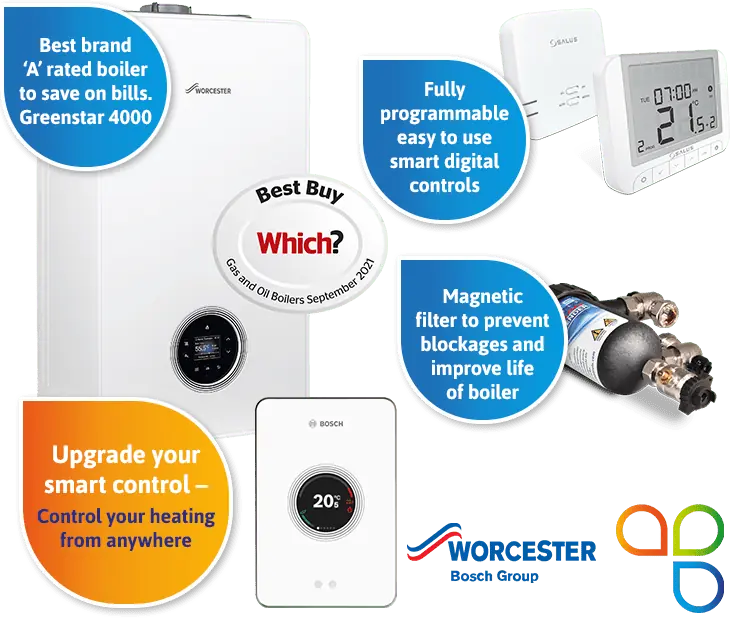 Worcester Bosch Greenstar 4000 Life 30Kw Combi Boiler. Boiler upgrades/larger boilers are available*
Magnetic Filter – Keeps water running clean preventing blockages, extending life of Boiler and saving gas
Wireless Digital Boiler+ Smart Controls – Fully programmable and easy to use. Choice of Salus Digital or Worcester Bosch Easy Control*
Thermostatic Radiators Valves – Allows you to control heating on each radiator independently
Miscellaneous pipes and fittings – Installed as well as protective chemicals put into the system
Hassle Free 2 Years Warranty inclusive of parts and labour
Up to 6 new white coloured wall radiators**
*At an additional cost. **Any of your extra requirements can be discussed with our Bookings Team
Efficient Home Upgrades – FREE Installation Available
If we identify that we can improve the efficiency of your home therefore saving you money on bills, we will install the following FREE OF CHARGE as part of the Boiler install:
Loft Insulation
Bathroom Extractor Fans
Cavity Wall Insulation
Window Vents
Room in Roof Insulation
Smart Thermostatic Radiator Valves
Underfloor Insulation
Recent Happy Homes
Here are just some of the comments sent to us by our customers. See more on our reviews page and have your chance to include yours.